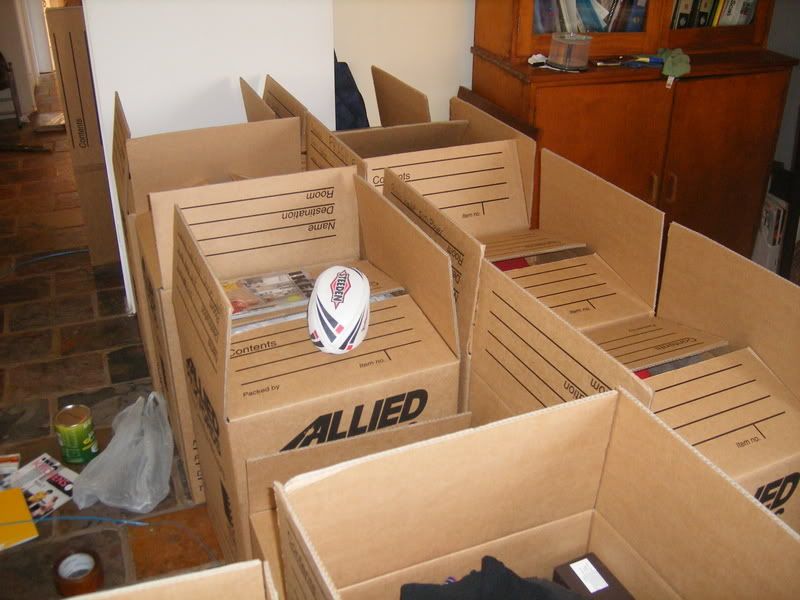 That my friends, is my life. Packed into a few boxes.
I am petrified. I cannot believe that I am leaving.
The negatives:
Missing my brother. Missing him taking out his puberty on me. Missing his volleyball games, his early wake up knocks to take him to high jump training. Just missing him grow up in general.
I will also miss the sunshine, my dog, my bed, my parents, my friends and my way of life. I will miss not having to pay all the bills, all the time.
On the upside:
I will be with my beloved. We will cook, go on adventures, save for our own home, start a brand new chapter in our lives. I will become a lot stronger and will realise just how capable I am of coping with life. It will be a brand new start. Though I wish I was there to send him off on his 'first day', we will be together so he can send me off on mine. And we can't wait to crack open that Moet once all the boxes are unpacked. I also cannot wait for us to go to Adelaide and Tasmania together this year.
See how life works out, just the way you planned it? Haha, yeah right! If you had told me 12 months ago that in Feb 07 I would be doing this, I'd have stabbed you with a screw driver.
I'm vowing not to shop ever again though LOL. I have just. so. much. stuff. Really, I didn't find anything I've never worn, but geez, if I have so much stuff why does it feel like I never have anything to wear?
The move has not been easy. The decision was made so long ago, yet we never gave it much thought until pretty much now. The logistics have been a nightmare. We are sleeping on the floor for about 10 days as we can't get the keys to our place just yet. The removalists were meant to have picked up our things on Friday at 12noon. They showed up with no boxes. Came back again that afternoon when they weren't expected. Again rescheduled for 2pm, called at 11am to reschule for tonight at 630. My last Saturday night here and I have to wait for them? Not happening for us, is it? My work is also giving me hassles.
Please pray for us guys. Right now we need it. I've wanted to say no about 3 times already. I think I'm crazy to love somebody this much. Hope you agree. Ease my pain, please?