Easter is one of my favourite times of the year, especially to reflect. The year always gets off to a flying start so it's a good time to clock up some serious church time and enjoy the long weekend and re-evaluate. While most of the world rejoices over Easter and the impending warmer and longer days, in Australia we are winding up the summer and all the festivities.
The oven also gets a nice little workout and it warms the house just enough without needing to turn the heating on yet.
I trialled this excellent recipe from Gourmet Traveller (as much as I love that magazine the recipes are often far too difficult to pull off) last year, but didn't get to post it, so I'm sharing it this year.
Using the dough hook on a mixer is the absolute secret for this recipe, the dough ends up incredible. Even my husband, who is a bread and dough expert was very impressed.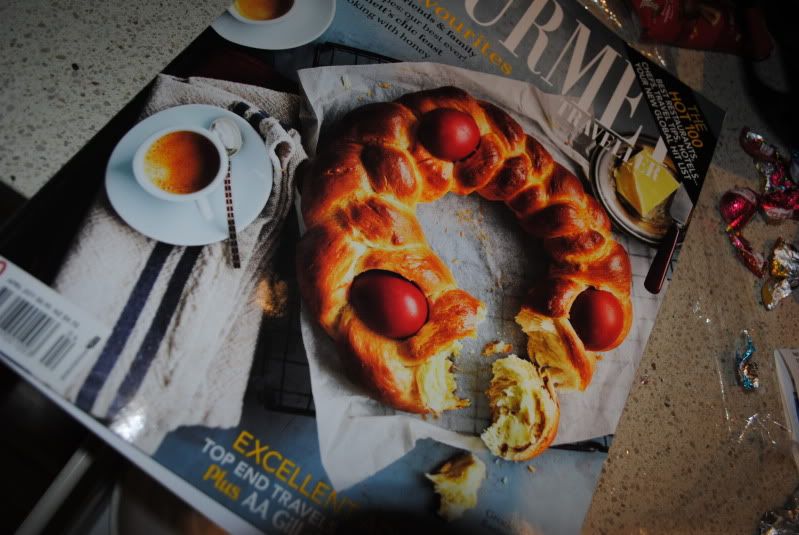 | | |
| --- | --- |
| 500 gm | (2 2/3 cups) plain flour |
| 21 gm | (3 packets) dried yeast |
| 125 ml | (½ cup) milk |
| 2 | eggs, lightly beaten, plus extra for brushing |
| 50 gm | caster sugar |
| Finely | grated rind of 2 oranges and/or lemons |
| 2 tsp | mahlepi or nutmeg |
| 75 gm | softened butter, coarsely chopped, plus extra to serve |
| | |
| --- | --- |
| 1 | Combine flour, yeast and a pinch of salt in the bowl of an electric mixer fitted with a dough hook, form a well in the centre, set aside. Add milk, eggs, sugar, orange rind, nutmeg and 100ml lukewarm water and mix until a soft dough forms (5-7 minutes). Gradually add butter, a little at a time, mixing until a smooth soft dough forms (3-5 minutes), place in a lightly greased bowl, cover with plastic wrap and set aside until doubled in size (approx 1 hour). |
| 2 | Red Easter eggs are painted mainly by those of the Orthodox faith as they symbolise Christ's blood. They can be dyed using dye available to purchase from European delis or traditionally the skins of red onions which are collected since Christmas. |
| 3 | Knock back dough and divide into 3 pieces. Roll each piece into a 45cm-long cylinder, plait pieces together, then bring ends together to form a wreath and squeeze to join. Place on an oven tray lined with baking paper and set aside to prove slightly (20 minutes). |
| 4 | Preheat oven to 180C. Brush wreath with eggwash, gently push red Easter eggs (unpeeled) into wreath and bake until wreath is golden and cooked through (25-30 minutes). Cool on a wire rack, serve with butter. It tastes amazing eaten same day, usually baked early in the morning in time for lunch. |