I am buried in over my head with a million safari tabs open (in fact my macbook crashed the other night because I had 72 open at once) researching my Italian sojourn. I have an excel, word and paper diary itinerary going all at once. I am at the pointy end with just over 2 months to go. I am too scared to look at my credit card.
This has by far been the hardest trip to plan as it involves the consideration of interests, tolerance and comfort of a 3 year old. I am a massive fan of art and history and I couldn't imagine anything to be less interesting to a 3 year old. Italy seems like a lovely place to take children and even
Caffe Florian
has a children's menu so it may work out okay.
I am the type of person who sets the alarm for 6am and needs to see every corner of every place and I can't help but schedule every panini shop and hidden Gelateria I can find.
I am not a hotel person when it comes to sight seeing holidays but I have had to ensure the toddler is comfortable and has her own space and comforts.
I camped out on Wednesday night to get tickets for
Da Vinci's The Last Supper
as they were released for my date. I can't wait to take in Florence from a rooftop bar and enter Venice in a water taxi.
I am also trying to decide on only 6 outfits for a 3 week trip. Gulp. I don't want to be dragging luggage on and off trains and would like to leave some room in my luggage for a trip to Space (the Prada outlet).
On my packing list so far are:
a large Le Pliage.. a no brainer really. Is very light, fully zips (unlike my LV Neverfull) and can fit essentials for carry on as well as day trip necessities like a change of clothes for aforementioned toddler, water bottle, snacks and my SLR.
Muji packing cubes
. Cheap and a lifesaver since I've begun travelling with a small person. I use 4. One of my clothes, one for my shoes and same for her. That way I can unpack my suitcase and not unpack the cubes but still know where everything is. And how easy is it then to pack? Place 4 cubes plus toiletries into the suitcase and you're off.
I discovered Bared shoes this past summer. They are designed by a podiatrist so are actually "good" for your feet. They absorb shock on the soles of the feet, support the heel and support your arches while not looking like daggy pharmacy sandals. Win!
Bassike jersey harem pants
. These are the most comfortable pants in the world, especially for plane travel and I swear you can dress them up and get away with wearing them as part of a smart outfit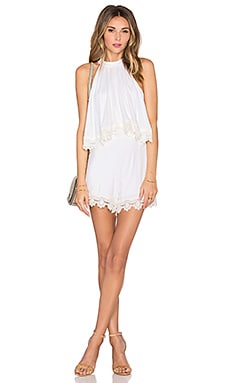 Don't judge an old mutton like me but I am SOOO in love with this romper. Will be making it's debut at
Villa d'Este
. I might run into George Clooney.... :P