Travel has got to be one of my greatest loves. But unfortunately I do not like being away from home for more than 2-3 weeks. I love new places, but I'm not a fan of lugging suitcases and disrupting my routine. So that's why I love mini breaks - carry on luggage and minimal fuss and I'm back in my own bed within days.
Summer breaks can be exhausting - I spend a lot of time walking, sight seeing and checking out every beach within driving distance of the destination and often I need a day or two to rest.
My favourite time to get away is in winter. Activities are usually limited to drinking red wine and eating hearty meals or sitting by the fire reading.
B and I are planning a quick trip in August to the snow or perhaps to Cradle Mountain in Tasmania...
Cradle Mountain Lodge
is absolutely divine in winter. It can snow at times, but very lightly, and the bush walking tracks are amazing with plenty of wild life to encounter. There is no rushing required, just a tranquil few days spent by the fire or in the spa.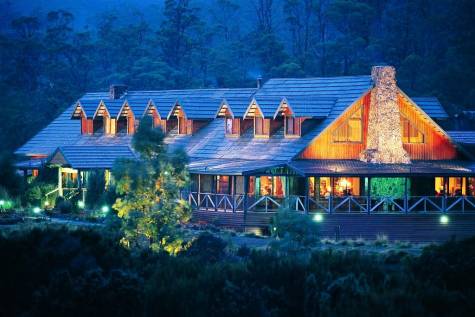 Of course, a winter get away requires a winter wardrobe...
A cosy cashmere jumper...
A wool cocoon coat
A chunky knit scarf
And of course, flat riding boots in a luxe, buttery leather