I travel with a small, purple suitcase purchased in Target in 1997 for $39 before I went on my first trip to Sydney. It's seen half the world and most of Australia. I can't bear to let it go. It's still in one piece so there's no need to replace it. And what I love the most about that suitcase is that it cannot possibly fit more than 22 kg, so there's never any danger of being over the weight limit.
The New Zealand trip is completely glamour free, so the make up bag contains the following, as carried in a linen Aesop drawstring bag and a small make up bag.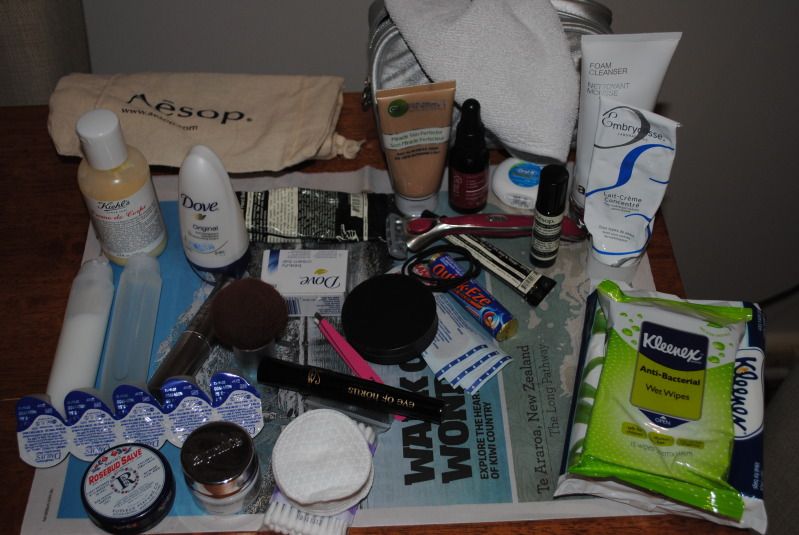 tissues, antibactorial wipes, contact lenses, cotton balls, cotton tips, gloss, microfibre cloth, Rosebud Salve, Twizermann Tweezers, Bandaids, La Prairie SPF Day Cream, Eye of Horus Mascara, Giorgio Armani Lumious Silk Powder (just enough coverage and a bit of colour,) Bloom Cosmetics Illuminator, Natio Kabuki Brush, Mini Dove soap bar, hair ties, Sebastian Light shampoo & conditioner in Muji travel tubes, Kielh's Creme de Corps, Aesop Ginger Flight Therapy, Aesop hand balm, Trilogy Rosehip oil to soothe my windburnt skin at night, La Prairie cream cleanser, Garnier BB cream, Schick Quattro - the best razor everrrrrr, Embryollise Lait Cream - a French pharmacy delight. The skin miracle worker.